URN (University Radio Nottingham) are the multi-award–winning radio station of the University of Nottingham Students' Union, and we were delighted to help them with their new studio.
Their team approached us to ask if we could offer a technical solution to replace their existing broadcast setup, and following a site visit and further discussions we delivered a number of technical upgrades.
AoIP Studio
We supplied and installed brand new Audio-over-IP (AoIP) hardware and software for their primary studio, including:
We also provided wiring, configuration and Voceware VClock to provide on air and mic live indication.
RCS Zetta & GSelector
With a new studio came the requirement for updated playout and scheduling software. We recommended RCS Zetta and GSelector which is used in a wide range of stations of different sizes across the country.
Broadcasting during COVID-19
Radio stations have had to adapt quickly to allow many if not all of their shows to be run remotely. As part of our installation, we ensured RCS Zetta2GO was set up and running securely. This allows presenters to record links and run their show from the safety of their home anywhere in the world.
Broadcast Furniture
It's important that a studio is practical and accessible for all users. As such, we went to our suppliers and worked out a custom broadcast furniture solution. The resulting product allowed for free circulation around the room and is electronically height adjustable by the presenter. We also ensured there was space for the station DJ mixer and CDJs.
---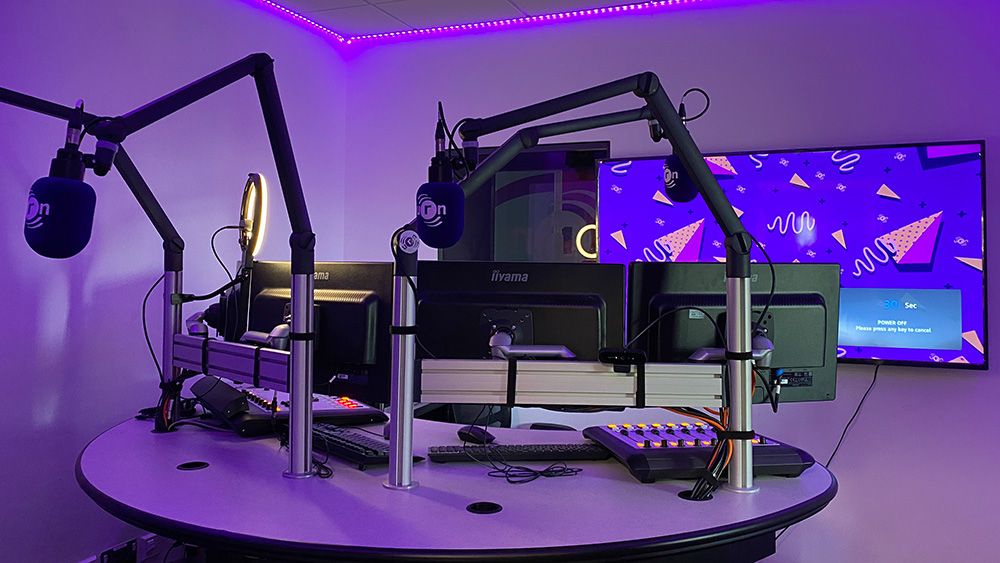 ---
Studio Switching & Transmission
The station broadcasts online via URN1350.net using multiple studios including traditional analogue spaces. As part of our work, we supplied and set up a brand new main equipment rack to set the base for current and future improvements.
This included a new network switch, transmission switching (encompassing all studios), stream encoding and processing, as well as NAS and playout during automated hours. We have also designed this system to allow extra AoIP studios to be added over time as required.
How can we help?
If you're looking for help with your broadcast studio we're more than happy to discuss options with you, and work out a solution that works for your station whatever the size. If you would like to talk to one of our team why not drop us a message, or use the chat in the bottom right of your screen.